NOTICE
MrBackup's mechanism and technique constitute business secrets and are protected by the End User License Agreement (EULA). In terms of the End User License Agreement, the End User is not allowed to investigate, decompile, alter, change or in anyway determine the mechanisms used by MrBackup to make this backup. Such action constitutes an infringement of this EULA and conditions of use.
---
Need installation or remote support? No Problem!
MrBackup holds a valid Teamviewer 9 license and we have our own dedicated Teamviewer Remote Support module which you can download directly from this site!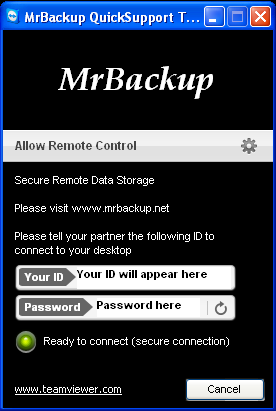 Click here to DOWNLOAD our Teamviewer Quick Support module. Save the file in a convenient location, like the Destop, click and tell us the ID & password. We will do the rest. Easy and no fuss.
---
MrBackup recommends speedtest.net for independent broadband speed verification.


A speed test in non-invasive and allows you to compare your own internet connection speed to other users. It is completely free and safe to use.
---
MrBackup uses a flexible, non-prescriptive Point-in-Time local host to remote host data storage mechanism. The actual data transfer is in secured compressed format, using maximum available encryption in PGP format, over broadband Internet link, with Windows/Unix based secure copy technology.
MrBackup has been tested and is operational on:
Windows XP SP3
Windows 7
Windows 8 and 8.1
Windows 10
Windows Server 2003
Windows Server 2008
Windows Server 2008 R2
Windows Server 2012
---
MrBackup uses the following steps in backup creation and storage.
Identification
The data which must be stored must be identified. This can be as limited as the documents in a single folder, or the data generated by commercial software packages of any type such as accounting / CAD / GIS / PDF or others. This specification is highly end-user dependent.
Backup
This is a process which can be broken down into several steps.
(a) Locating the actual files on disk,
(b) creating a local host data cache,
(c) compressing and encrypting data,
(d) opening a secure remote host data transfer connection,
(e) uploading data to the secure server,
(f) confirming data storage,
(g) automated confirmation email.
Once scripted, the user only has to activate the process with a Desktop shortcut, making the actual run time experience very fast and user friendly. No technical knowledge is expected of the end user. It is possible to automate the process through scheduling.
---
Compression
MrBackup uses a dual layer compression procedure with non-compatible internal compression, increasing data security.
Encryption
MrBackup uses internally generated, restricted non-public 1024 bit SSH-2 RSA private certificates, with limited life cycles on a one-client only basis, increasing data security.
Upload
MrBackup requires the client to have broadband Internet available in order to upload each data set. Unlimited uploads are allowed. The most recent eight (8) uploads are uniquely identified and archived, allowing older data to be automatically removed from the storage server.
Version Control
MrBackup guarantees the availability of at least eight (8) unique, complete data sets. Once uploaded, these data sets are date stamped and archived in chronological order to allow for easy identification of the required data set and shortest possible recovery time. In order to retain and make available any individual archived data set from the archive as a unique, stand alone data set, a non-incremental approach to data storage is used, with intentional non-deduplication and multiple retained redundant data sets. This guarantees multiple independent individual Point-in-Time recovery options.
Core Data
MrBackup provides a real-time off-site data storage solution designed with micro enterprises in mind. In order to achieve cost effective data storage it is essential to examine client data and determine the value of data against mission critical criteria. It has been suggested that as much as 75% of data stored on a computer is obsolete. MrBackup focusses on the essential 5%-10% of business critical/mission critical data which each enterprise needs to ensure business continuity in a disaster recovery situation. This essential data is labelled as Core Data and stored using unique, client specific, customized pre-configured protocols. Good backups facilitate easy restoration.